A widely followed crypto strategist is optimistic that Bitcoin (BTC) could surge by double-digit percentage points from the current price.
The pseudonymous crypto analyst Kaleo tells his 558,300 Twitter followers that Bitcoin will swiftly rally to $30,000 after overcoming a downward trend that started in late November.
From the analyst's projected trajectory of Bitcoin on the four-hour chart, it seems that he's suggesting that the flagship digital asset could soar above the $30,000 resistance level sometime in February.
"I once again am here to remind you that Bitcoin heads straight to $30,000 from here."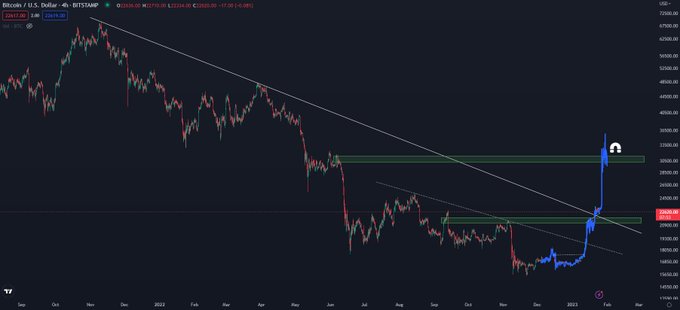 Bitcoin is trading for $22,616 at time of writing.
According to Kaleo, Bitcoin will outperform Ethereum (ETH) as the flagship crypto asset targets the $30,000 price level.
When Ethereum is paired against Bitcoin, Kaleo's charts suggest that the former will drop by slightly more than 30% to below 0.0510 BTC, a level last recorded in mid-2022.
"ETH/BTC just touched and bounced off high time frame support
Really don't see this holding when BTC starts the impulse move up to $30,000+."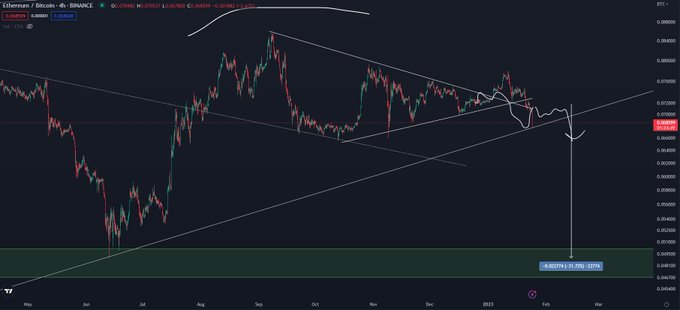 Ethereum is trading for 0.0684 BTC ($1,614) at time of writing.
The widely followed crypto analyst further says that Bitcoin will also outperform altcoins as the dominance level of the largest digital asset by market cap inches upwards.
"Your favorite altcoins might be slowly climbing in terms of USD [US dollar] price, but whether you realize it or not – the majority of them are dumping vs. Bitcoin, and there are no signs of that trend slowing down any time soon."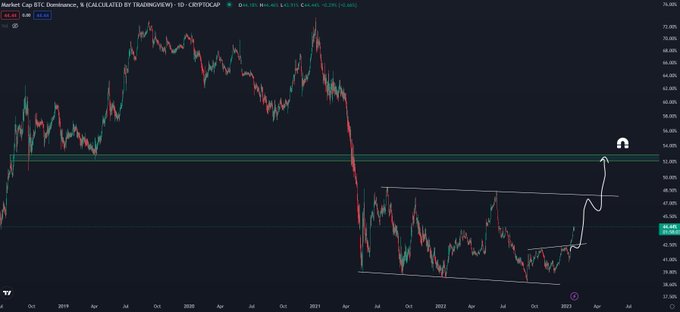 Generated Image: Midjourney