CrowdStrike Holdings Inc. today announced new products extending its Falcon protection line and highlighted various threat research results from its annual Threat Hunting Report released last month.
Also announced at the company's annual Fal.con user group conference was the acquisition of Bionic.ai for cash and stock for an undisclosed amount. The companies expect this transaction to close during CrowdStrike's next fiscal quarter. Bionic has been in business for four years and is based in Palo Alto.
It uses an agentless approach to protecting applications by discovering vulnerable code dependencies and inventorying services and data usage. CrowdStrike will integrate Bionic into Falcon as well as continue to offer it as a standalone product. "Bionic shares our passion for customer-focused innovation and will make a great addition to the CrowdStrike team," said George Kurtz (pictured below), co-founder and chief executive of CrowdStrike.
New products
The company announced several extensions to its Falcon line of defensive products, adding to the more than 20 existing modules that have made the tool both popular and effective, especially among larger corporate customers. Almost two-thirds of their customers deploy at least five Falcon modules, according to their latest data. The new products include:
Raptor, which incorporates the CharlotteAI incident investigation tool. This will help automate incident investigations and analysis, correlating and summarizing various events in a new collaborative incident command portal, and respond to natural language queries in one of more than a dozen different languages. It will also include the XDR Incident Workbench to help remediate any exploits and the Humio near-real-time analysis tool it acquired from Dell Technologies Inc. in 2021. The latter has been rebranded Lightning Fast Search. As part of this update, it also will include what CrowdStrike is calling XDR for all. "All existing and future CrowdStrike customers will now get native endpoint detection features at no additional cost, including access to identity and cloud protection telemetry," said Raj Rajamani, head of product for the company. Raptor will roll out over the next year with initial upgrades beginning later this month. Kurtz gave an interactive demo (shown adjacent) at the conference of how CharlotteAI could find and fix various vulnerabilities on a network of several thousand PCs running Windows, Linux and Macs.
Foundry, a no-code application development platform specifically designed for security purposes. It provides automated tools to help end users define workflows and mitigation actions. No-code and low-code platforms such as Salesforce Lightning, Microsoft PowerApps and Google App Maker have proliferated lately but "nobody else is offering both a cybersecurity and a no-code application development platform," according to Rajamani. That isn't quite true: Zenity.io has been selling such a solution for several years now.
Falcon Data Protection, bringing this functionality to Falcon with data policy enforcement and content classifiers and tracking and running on top of existing Falcon agents. CrowdStrike is positioning this module as competitive with standalone data loss protection products such as from Forcepoint and Symantec.
Falcon for IT, which has automated cross-platform libraries for orchestration tasks for general IT operations, and can monitor managed endpoints for system utilization and running services status. "CrowdStrike is extending Falcon to include generative AI and automation to solve the most pressing, time-consuming IT use cases," said Rajamani. This field was pioneered by London-based endpoint observability vendor 1E.com, which has been operating in this market for many years.
With these additions, CrowdStrike's Falcon will get a boost to cover more of the security landscape, better incorporate AI-based techniques and compete with products such as Wiz's cloud native tools and Google's Chronicle, just to name two competitors who are already in this market space and leveraging AI.
One big advantage of Falcon is its combined agent/agentless approach that makes it easier to collect and analyze a lot of data. "Falcon provides a single, unified agent, managed from a single console, using a single backend data lake collecting information across endpoint security and data protection," said Rajamani.
Falcon's challenge for IT managers is being able to integrate the new components and for potential customers to share the collected data among the right staff members that have the skills to understand what they are seeing and to act on the alerts.
Threat Hunting Report
The threat report consolidates data from two previously separate threat analysis groups now called the Counter Adversary Operations team and headed by Adam Meyers. As part of the team's duties, it keeps track of 220 threat actor groups around the world, including the more active state-sponsored attackers from Russia, North Korea, Iran and China.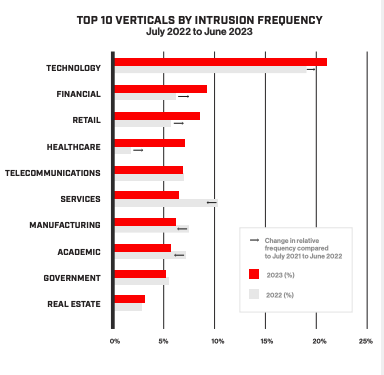 One of the biggest jumps in attack types was seen with kerberoasting attacks. This attack method is nearly a decade old and is so well-known that it has its own MITRE ATT&CK category. Nevertheless, last year CrowdStrike saw a sixfold increase across its network telemetry in this type of attack, with one-sixth of all attacks being attributed to the Russian Vice Spider malware group.
These target the Kerberos authentication protocols, whereby hackers extract encrypted tokens typically of service accounts and subject them to dictionary or brute-force methods to break the encryption. These service accounts have higher privileges that can then be used to compromise an entire Active Directory domain and launch further exploits.
Meyers in a press conference webinar said that the biggest recipient of threats was the vertical segment involving technology-related businesses, as shown in the accompanying graphic. "This is a very lucrative vertical for cyber criminals, and it is targeted because it is force multiplier for supply chain attacks and other espionage techniques," he said. "There is a continuing huge concern that tech companies will be a target."
The company also saw a 300% increase in attacks involving remote management tools, and a 147% increase in advertising for access brokers across various dark web forums that it monitors. Finally, it saw attackers getting better at moving quickly to penetrate their targets, shaving five minutes off the average time in last year's survey of 84 minutes to launch an attack.
Image/Photo: CrowdStrike