Here's why gold might be the most important signal right now
November 21, 2023 Nov 21, 2023, 4:26 pm EST November 21, 2023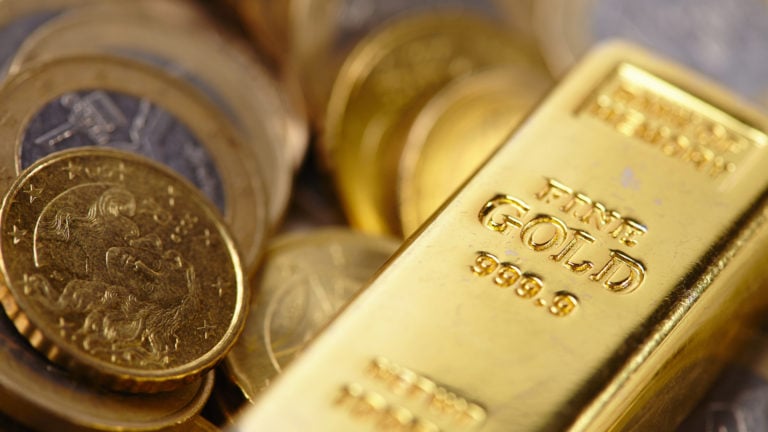 Source: allstars / Shutterstock.com
I'm a big fan of looking at divergences to see if there are disconnects. And there's a big one happening right now.
Why is gold holding up so well here despite a strong start for the stock market in November? I find it interesting that gold, which is a risk-off asset, is still hovering around its all-time high. This is not me trying to find faces in the cloud. Why is it that despite hope for a year-end rally in stocks, there's been stubborn strength in the yellow metal? Clearly, gold doesn't need to move based on the stock market, but it does tend to move when expectations for increased stock market volatility are rising.
What's Next?
So let's play it out. What happens if gold continues to rally and actually breaks through to new all-time highs in the weeks ahead? I suspect you'd see some incredible FOMO if that happens. It would be a multi-year breakout that causes some serious momentum players to rush in. But at the same time, should that happen, that might freak out equity investors for a moment in time. Why? Because if the Fed did "stick the soft landing," then demand for gold would likely fall instead of stay sticky against a strong dollar.
There's another interesting dynamic happening here as well. Gold tends to do well when the Fed stops hiking rates and accelerates its strength as they cut. You know what else happens when the Fed pivots? Odds favor a larger drawdown for the stock market. What if all this is the same possible message here? What if gold is sending us a signal that the Fed is done and that is not good for risk-on assets?
Risk Remains
Let's combine that with small-caps which I keep saying "hold the key." You do realize that for all the excitement around small-caps in November, we are still basically just chopping around, right? I see strength in gold, strength in Treasurys, and an uncertain small-cap momentum factor not really quite playing out yet, in a seasonal period that is supposed to most favor small-caps. Yes — I was wrong about the risk of a corporate credit event happening in early November, but what if it was just early by a month and something more nefarious is coming in December when most investors least expect it?
I don't think that's an impossible scenario. Gold may indeed be signaling through its relative strength that risk-off conditions are not quite done yet.
On the date of publication, Michael Gayed did not hold (either directly or indirectly) any positions in the securities mentioned in this article. The opinions expressed in this article are those of the writer, subject to the InvestorPlace.com Publishing Guidelines.
The Lead-Lag Report is provided by Lead-Lag Publishing, LLC. All opinions and views mentioned in this report constitute our judgments as of the date of writing and are subject to change at any time. Information within this material is not intended to be used as a primary basis for investment decisions and should also not be construed as advice meeting the particular investment needs of any individual investor. Trading signals produced by the Lead-Lag Report are independent of other services provided by Lead-Lag Publishing, LLC or its affiliates, and positioning of accounts under their management may differ. Please remember that investing involves risk, including loss of principal, and past performance may not be indicative of future results. Lead-Lag Publishing, LLC, its members, officers, directors and employees expressly disclaim all liability in respect to actions taken based on any or all of the information on this writing. Michael A. Gayed is the Publisher of The Lead-Lag Report, and Portfolio Manager at Tidal Financial Group, an investment management company specializing in ETF-focused research, investment strategies and services designed for financial advisors, RIAs, family offices and investment managers. InvestorPlace readers that are new subscribers to the The Lead-Lag Report can receive a 30% discount.