All the news that's fit to lift —
"SpaceX continues to totally redefine the world's access to space."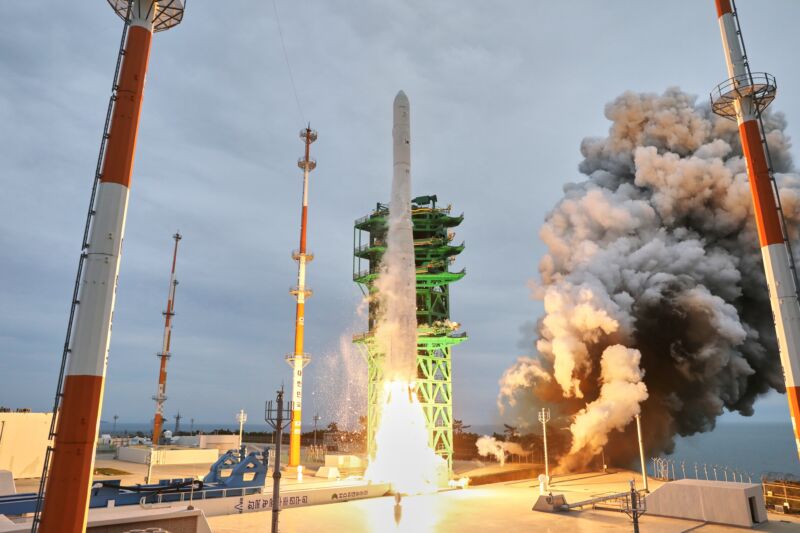 Welcome to Edition 5.40 of the Rocket Report! I would like to congratulate Virgin Galactic on its successful return to space on Thursday morning above the state of New Mexico. It has been a long period, nearly two years, since the company's last human spaceflight. Here's hoping the company can reach a regular flight rate soon.
As always, we welcome reader submissions, and if you don't want to miss an issue, please subscribe using the box below (the form will not appear on AMP-enabled versions of the site). Each report will include information on small-, medium-, and heavy-lift rockets as well as a quick look ahead at the next three launches on the calendar.

Virgin Galactic takes to the skies again. On Thursday morning Virgin Galactic successfully returned to human spaceflight after a nearly two year hiatus. In a news release, the company said its VSS Unity spacecraft reached an apogee of 87.2 km before landing at Spaceport America in New Mexico. Virgin Galactic says it is now readying the vehicle for the start of long awaited commercial operations, with the "Galactic 01" mission planned for late June.

A sunny experience ... Mission specialists Jamila Gilbert, Christopher Huie and Luke Mays became the newest Virgin Galactic Astronauts as they evaluated the end-to-end astronaut training and spaceflight experience alongside Beth Moses in the main cabin. The flight was commanded by Mike Masucci, with CJ Sturckow serving as pilot. "Witnessing our inspiring crew's pure joy upon landing, I have complete confidence in the unique astronaut experience we have built for our customers," aid Michael Colglazier, CEO of the company.

Virgin Orbit's assets are sold off. It's now official—the launch company Virgin Orbit is being sold for parts. In a new filing this week as part of the bankruptcy process, Rocket Lab purchased the company's main production facility in Long Beach, California, to support its Neutron rocket. Stratolaunch bought Virgin Orbit's Boeing 747 aircraft and related equipment. And Launcher acquired the company's lease on a test site in Mojave. That's it. After six years, Virgin Orbit is done, and its LauncherOne will fly no more.

A non-closing business case ... In an analysis, Ars Technica explains how the company's business plan did not make much sense from the beginning. It seemed fairly obvious that, with the large workforce hired by CEO Dan Hart, Virgin Orbit was probably never going to break even. The company's human resources bill alone was likely about $150 million per year, and that did not include facilities, leases, equipment, and hardware costs. Assuming a profit of $10 million per launch—an exceedingly generous figure—Virgin Orbit would have to launch something like 30 times a year to break even. There clearly was no satellite market to support this, and even reaching such a cadence would have required several years.

The easiest way to keep up with Eric Berger's space reporting is to sign up for his newsletter, we'll collect his stories in your inbox.

South Korean rocket flies again. The country's Nuri rocket, also called KSLV-II, completed its third launch on Thursday, Payload reports. This marks the first time a Korean launch vehicle has carried commercial payloads to space. The Nuri launcher deployed eight satellites into orbit, including three from domestic companies: Lumir, Justek, and Kairo Space. One of the CubeSats was unaccounted for, however.

Nuri goes commercial ... After winning a technology transfer contract from the Korean space agency last year to jointly advance the rocket's capabilities for its cadence of launches through 2027, Hanwha Aerospace, a leading Korean aircraft engine producer, oversaw the supply and integration aspects of the rocket. Hanwha aims to make the small launcher, which can loft about 3 metric tons to low-Earth orbit, more price competitive. (submitted by EllPeaTea and Ken the Bin)

Rockets may soon fly from the Gulf of Mexico. The Spaceport Company announced Tuesday that it hosted four sounding rocket launches with the support of Evolution Space on Monday from a platform in the Gulf of Mexico, Space News reports. The launches were part of a proof-of-concept test of the ability to conduct launches from an offshore platform. The Spaceport Company said the low-altitude launches were intended to exercise the procedures needed to conduct an orbital launch from such a platform.

Launch site with a view ... This includes getting approvals from the Federal Aviation Administration and US Coast Guard, clearing airspace and waters to allow for a safe launch and remotely launching the rocket. The launches used propulsion systems supplied by Evolution Space, a Mojave, California-based company working on solid-propellant launch vehicles for defense and space applications. The company conducted its first launch that passed the 100-kilometer Kármán Line on April 22 from the California desert, reaching a peak altitude of 124.5 kilometers. (submitted by Ken the Bin)

A spaceport map of the world. There are more spaceports in the world than you probably think. The team of analysts at BryceTech has characterized more than 80 operational, planned, and announced spaceports and major ballistic missile testing sites globally.

A British thing ... You can download a copy of the map here. There are so many proposed spaceports in the United Kingdom—seven—that the map includes a breakout section showing just England, Scotland, and Ireland. No wonder I have had difficulty keeping track of all the British spaceport proposals.

Page:

1 2 3 Next →